Douglas Murray's holy war on Islam
After the bombing in Manchester, prime minister Theresa May said, on the steps of Downing Street: 'We struggle to comprehend the warped and twisted mind that sees a room packed with young children not as a scene to cherish but as an opportunity for carnage.'
Really? After over 50 years of Islamic terrorism against the West, we still struggle to comprehend the mind of those violently opposed to us? That suggests a real failure and weakness on our part.
Douglas Murray, the author of The Strange Death of Europe, thinks that those who attack us are constantly trying to explain their motives to us. We're just not listening. They are constantly explaining that they're motivated by their reading of the Koran and their understanding of Islam. But Western politicians and journalists won't publcly acknowledge this, because it might seem racist to connect terrorism and Islam. Instead they insist terrorists have 'nothing to do with Islam', that 'Islam is a religion of peace'.
"Let's be clear: Islam is not our adversary. Muslims are peaceful and tolerant people and have nothing whatsoever to do with terrorism."

— Hillary Clinton (@HillaryClinton) November 19, 2015
Murray's book - currently number 6 in the Amazon UK charts - is a rallying cry for Europeans, a last stand, like Childe Roland blowing his horn before falling beneath the moors' swords. Europe is being rapidly transformed by waves of Muslim immigration, he says, and this threatens Europe as we know it. We must resist, he says, or liberal Europe will die.
Europe's liberal universalist dream is that new arrivals will more or less share its liberal ideals. But that's not necessarily so. A survey by ICM last year, for a Channel 4 documentary presented by Trevor Philips (the former head of the Equality and Human Rights Commission), found that 23% of British Muslims support the introduction of shariah law in some parts of Britain, 52% think homosexuality should be illegal, 40% believe wives should always obey their husbands, one in six want Muslims to live more separately from the rest of society. Philips said: "there is a correspondence between this desire to live separately and sympathy for terrorism. People who want to live separately are about twice as likely to say that they have sympathy for terrorist acts." (Some criticized the methodology of this survey).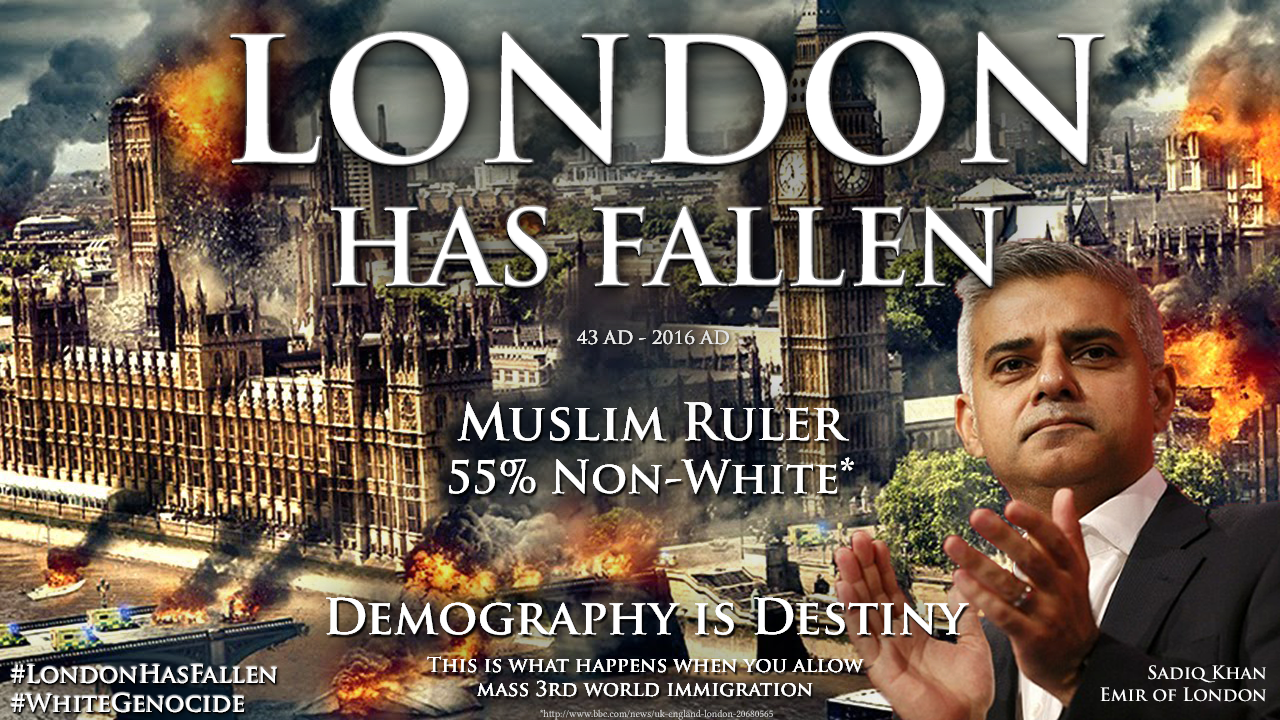 Murray thinks these illiberal attitudes will grow as Muslim populations grow in western Europe, from around 2% in 1990, to 6% in 2010, to a projected 10% in 2050. Eventually, he fears, liberals will be in the minority and Europe will become a shariah-state. It has a sort of tragic Nietzchean note to it, in common with other alt-right texts - his friend James Delingpole has a podcast which broadcasts from 'occupied Europe', while American alt-righters love to talk about how Europe is 'lost', 'London is fallen' and so on. It's simplistic and alarmist, but then so is a bomb.
Murray's book does a sort of sleight-of-hand. It mixes a critique of Islam as an illiberal religion with a critique of mass migration in general. He mixes denunciations of Islam with reports of how London is now majority non-white, how the face of western Europe has been transformed in the last two decades, how mass migration is putting a strain on public resources and public sentiment.
It's true that European populations have been utterly transformed in the last three decades. We are sometimes told that nothing has changed, that Britain has always been a 'mongrel nation' - like the Huguenots, right? No, something has changed. Rates of migration went up very rapidly under New Labour. Cities including London, Bradford, Birmingham and Slough have gone in 50 years from being almost entirely white to becoming majority non-white.
Is this sudden expansion of the immigrant population a good or bad thing, economically? It's not clear. European populations are ageing, and migrants provide cheap labour. On the other hand, the rising numbers puts strain on schools, hospitals and housing. Some welcome the greater diversity in our culture - the arts, the music, the food, the cultural dialogue - while others blame increased diversity for lower levels of trust in communities (the evidence for this is, again, mixed).
Migration and rape
Murray's most controversial point, and it's one he returns to repeatedly, is that mass immigration has led to a rise in crime in European societies, and in particular of rape. He focuses on the awful incidents of gangs of Middle-Eastern, Pakistani and Bangladeshi men who groomed and abused thousands (yes, thousands) of white teenage girls in Rotherham, Halifax, Oxford and elsewhere. The local authorities in Rotherham apparently failed to spot and stop the abuse partly because they were afraid of appearing racist. One of the first investigators of grooming gangs, Julie Bindel, writes:
the police and social services appeared to be scared of intervening in these particular grooming gangs, because a large number of the men involved were of Pakistani Muslim origin. The professionals who were turning a blind eye did not want to be labelled as racist
Murray also covers the mass groping by migrant men that took place in Cologne's main square on New Year's Eve in 2015, as well as reports of mass groping and rape at a Swedish music festival, and rapes in asylum centres. He argues that Sweden has become the rape capital of Europe and blames this on its high level of immigration.
This linking of immigration and race to rape is an extremely old and powerful propaganda technique - which is why Donald Trump and Nigel Farage use it, why Steve Bannon's alt-right website Breitbart seizes on any stories involving migrant rape. It's why the Nazis dropped leaflets on French soldiers saying English troops were seducing their wives, why British posters in WWI showed the Kaiser as an ape carrying off a British woman. It was the main justification used by white Americans for violence against blacks in the 19th and 20th centuries - they're raping our women! It pushes a very old monkey button in us, that says: 'protect your women from the rapey foreigners' (and yes, the button says 'your women'). Historically, invading tribes really did - and do - rape and abduct women. The ancient rape-alarm button is still there in my limbic system - I remember reading about the Rotherham case and feeling horrified and vengeful, probably more so than if the perpetrators had been white.
Where sex crimes are committed by immigrants, we need to prosecute them without fear of appearing racist. However, Murray is guilty of exaggeration and inaccuracy - and that's really unforgivable in such a contentious area.
He reports that in 2009, immigrants were responsible for all reported rapes in Oslo. I was horrified by this. Why weren't we being told? Was there a politically-correct cover-up? It turned out to be true that from 2006 to 2009, all 41 reported incidents of 'assault rapes' (rapes committed by a stranger) were committed by immigrants. But there were many more incidents of domestic rape, committed by Norwegians. An Oslo police report in 2010 - also seized on by anti-immigrant journalists and politicians - found that 61% of rapes were perpetrated by Norwegians. Around 30% of Oslo's population is foreign-born, so immigrants are over-represented in the rape statistics, but it's a dangerous inaccuracy to say they're responsible for all rapes - and they're not all Muslims.
He's guilty of the same exaggeration and inaccuracy (or, if you prefer, lies) on Sweden. Sweden has the highest level of rape in Europe, and one of the highest levels of migration. Murray, like Nigel Farage and President Trump, insists the two are connected. But Sweden's high level of rape appears to be mainly because the country changed its laws to introduce a broader definition of rape than other European countries, and it has taken steps to try and encourage women to come forward to report if they've been raped.
I think there are genuine issues with migrant men coming, on their own, from highly conservative, highly patriarchal cultures to a permissive and (relatively) gender-equal culture like Western Europe. While most sex offenders in the UK are white (82%), data suggests that between 20% and 30% of grooming gangs are Asian (who make up 6% of the population) , while gang rape is apparently much more likely to be perpetrated by young black-British men.
But Murray undermines his case by misusing statistics. And this matters, because he's trying to make a sober, rational and intelligent case against mass migration in general and Muslim migration in particular, and to distinguish himself from racist extremists. When he mishandles statistics to create alarming emotional narratives, he gives credibility to myths and provides fuel for the extremists.
Public opposition to immigration
On one point Murray is certainly right: there is a deep disjuncture between European public attitudes towards immigration, and the attitudes and policies of mainstream politicians and liberal journalists. The mass migration into the UK which began in the mid-1990s was passed without a public discussion. Any discussion was shut down - if you criticized mass immigration in politics, journalism or academia, you were a racist, a far-right loony.
At my own centre, our 2016 annual lecture by Canadian historian Stephen Brooke looked at the emotions of Asian immigrants moving into Tower Hamlets in the 1970s, specifically their fear of racial violence (their emotions were measured by the Greater London Council). He didn't even bother looking at the emotions of the white East Enders, who felt their community identity was threatened (rightly - within 30 years Asians had become the largest ethnic group in the borough). The GLC didn't ask white working class people how they felt, so there was no data. They were the inexplicable Other.
In fact, ever since they began measuring it in the 1960s, public opposition to immigration was high - it started at a high of around 80% and has dropped since then, but it remains over 50%. It's become a much more pressing issue to voters in the last decade - before then, it was not a top five issue. Now it is. This may be because of Islamic terrorism, or because migration has become more visible, or because it's become more OK for media and politicians to express opposition to immigration.
Today, many politicians express a concern that multiculturalism is not working - even Angela Merkel. But now we are told it's too late. 'The dam has burst', Boris Johnson wrote in 2012. 'There is nothing we can now do except make the process of absorption as eupeptic as possible.'
European unease around the issue of immigration became acute in 2015, when a million migrants crossed the Mediterranean in boats, thousands of them drowning en route. Europeans were shocked by photos of dead children washing up on the shores of Greece and Italy. Europe's leaders showed very different responses to the migrant crisis. In 2015, Chancellor Merkel said all asylum seekers were welcome in Germany (this year, trailing in the polls, she's decided 'what matters most is repatriation, repatriation and more repatriation') while leaders in Eastern European countries expressed their opposition. 'We are a Christian country', said Slovakia's PM. 'Islam has no place here.' What is the Christian response - to welcome in millions of migrants, or to resist mass Muslim immigration?
Murray makes the point that the million refugees of 2015 weren't all Syrian asylum seekers - only around 40% were. Almost as many were economic migrants from Kosovo, Albania and Sub-Saharan Africa - single men looking to make money for their families back home. Should or could Europe simply accept anyone who wants to move there? Is that a serious policy? For the millions of Syrians fleeing the civil war, was it not better and cheaper to keep them in refugee camps nearer Syria, so they could move back home when the war was over?
At his most philosophical, Murray describes what he sees as Europe's cultural exhaustion. We have become soft, decadent, pleasure-seeking, 'without any unifying idea capable of ordering the present or approaching the future'. We're suffering 'an exhaustion caused by a loss of meaning, an awareness that the civilisation was 'no longer accumulating' but living off a dwindling cultural capital'.
Many Western Europeans - including Murray - have either lost their faith in Christianity or never had that faith in the first place. He writes: 'Who knows what will step into this void, but for the time being the consensus appears to be that the answer lies in enjoying our consumerist culture, frequently buying things that do not last and then buying newer versions of the same to replace them. We can go on holiday, of course, and generally try to have as nice a time as possible.'
When Europeans have a moment of existential crisis - as most of us do now and then - what answers does our culture give? 'Nothing says, 'Here is an inheritance of thought and culture and philosophy and religion which has nurtured people for thousands of years and may well fulfil you too.' Instead, a voice at best says, 'Find your meaning where you will.''
We've become a culture of hedonism, expressive individualism, and shrill identity politics. It is a society, he says, 'ripe for submission'. Islamic communities are beset by no-such crippling doubts, partly because anyone who publicly denounces Islam or even subjects its texts to historical criticism has to go into hiding. In an era of complexity and confusion, Islam gives clear, rigid certainty. That, Murray suggests rather pessimistically, is why it will probably win. Again, this note of cultural pessimism and critique of consumer capitalism is quite common in the alt-right.
But hey, maybe we're not doomed! Blow your horn, Childe Roland. Show us a way forward before we kneel to the Prophet.
Neo-Christianity and the war on Islam
Murray actually spends more time criticizing the limp inaction of European politicians than he does suggesting practical solutions. But he suggests some. Firstly, listen to European publics when they say they don't want more immigration. This seems fair enough to me. If the public doesn't want more immigration, try to lower immigration. Otherwise you eventually lose all legitimacy as a political system and democracy breaks down. The 2015 migrant spike is just the start - the desire to migrate to Europe from poorer parts of the world is not going away. Either you say 'come on over everyone' or you try and discourage mass illegal migration - why not have a public campaign in countries like Kosovo and Albania explaining that western Europe is not the promised land?
Could one also have a ban on further Muslim immigration, as Donald Trump tried to introduce? A ban on immigration from Muslim-majority countries is supported by a majority of Europeans. But an explicit anti-Muslim immigration policy would alienate the roughly 20 million Muslims living in Europe, and weaponize the minority of them prone to violence. It would play into the aim of groups like ISIS to 'eliminate the Gray Zone' between Muslims and infidels, and draw a stark line between Muslims and non-Muslims. What are you going to do - intern them? Deport them? Where to?
That's why it's not a good strategy to say 'the problem is Islam', as Murray does, even if there is a clear link between Islamic terrorism, certain passages in the Koran, and some Islamic fundamentalist cultures (specifically, Wahabbism and Salafism). I do think you can criticize sexist, homophobic or anti-democratic beliefs where they exist in Muslim cultures, as well as practices like female genital mutilation or honour killings, and you can raise textual and historical inconsistencies in Islam. I also think we should crack down on extremist preachers - chuck 'em out! But to say 'Islam as a whole is a threat and has no place in Europe' puts 20 million people into a state of existential threat. It makes them more likely to cling to rigid and extreme forms of Islam.
Are European governments so pathetic in their response to Islamic terrorism? No. I think they've done a very good job at reducing incidents, considering how easy it is to make a bomb or drive a truck into a crowd. Of course they understand there's a link between Islamic terrorism and Islam. They also understand it's a strategic error to criticize Islam in its entirety, as Donald Trump did to win votes (now as president he genuflects to Saudi Arabia, chief global exporter of extremism, while criticizing Iran, that well-known funder of global terror).
Murray's broader solution is to urge a return to Christianity, even for the non-religious. He writes: 'Unless the non-religious are able to work with, rather than against, the source from which their culture came, it is hard to see any way through.' He doesn't think it's likely anyone will come up with a new religion (apparently he hasn't attended Sunday Assembly), and he thinks the arts are not a sufficient substitute as they are 'parasitic on Christianity' - they offer a form of remixed Christian transcendence. He thinks liberalism also grew out of Christianity's respect for the individual, and may not survive the decline of that religion in the West.
He writes: 'A society that says we are defined exclusively by the bar and the nightclub, by self-indulgence and our sense of entitlement, cannot be said to have deep roots or much likelihood of survival. But a society which holds that our culture consists of the cathedral, the playhouse and the playing field, the shopping mall and Shakespeare, has a chance.' Although he finds evangelical Christianity 'uninformed', he feels drawn to cathedrals or the music of Thomas Tallis. It's Roger Scruton's sort of aesthetic Anglicanism - when I asked Scruton if he was Christian he said 'it has done nothing to offend me'. How's that for a whoop of faith!
Murray's neo-Christianity - like the neo-Christianity of alt-righter Steve Bannon - is a strange thing. It's a Christianity more to do with Charlemagne than Jesus, with Christendom than Christ. It's not a turning towards Jesus, but a turning against Muslims. It's a sort of Christian nationalism, a civil religion, and apparently it's on the rise - a new report suggests the number of those calling themselves Christian in the UK has stabilized because people increasingly see Christianity as an expression of English patriotism. Tommy Robinson, leader of the English Defence League, became a Christian last year.
But there are all sorts of paradoxes and inconsistencies in this neo-Christianity. First of all, there are twice as many Christians in the UK's immigrant population as Muslims. The reason Christianity is growing in London, unlike the rest of the UK, is because of Christian migrants, mainly African Pentecostalists and Eastern European Catholics. If Murray thinks the only viable future for Europe is a return to Christianity, does he think the influx of foreign Christians is a good thing?
Secondly, he suggests Christianity is the best defence for liberalism, but Neo-Christianity or Christian nationalism can be just as illiberal as Islam, and sometimes just as violent. Yes, in some ways our liberalism emerged from Christianity, but in other ways it emerged by rejecting Christianity, and there's still a tension between the two.
According to the Pew Centre, American Christians are becoming broadly more accepting of homosexuality, but over 90% of African Christians think it should be illegal. Half of evangelical leaders in the global south, and a quarter of evangelical leaders in the global north think the Bible should be made the law of the land - sort of a Christian version of shariah law. 71% of evangelical leaders around the world see secularlism as the greatest threat to society.
The Christian right may not insist on women wearing burkas, but 52% of American evangelical leaders think women should always obey their husbands, while Steve Bannon's alt-right movement (an unholy alliance of Christian, Stoic, libertarian and white supremacist men) is violently anti-female rights and pro-patriarchy. It justifies marital and date rape and dismisses 'rape panics' on American campuses. So, for the alt-right website Breitbart, it's absolutely intolerable and horrific when migrants rape white women, but if white men are accused of rape, it's femi-nazim and moral panic.
Still, Christians don't detonate bombs do they? Most Christians don't, but some Christian extremists do. In Norway, Anders Breivik killed 77 teenagers in his crusade against multiculturalism - he repeatedly called himself a Christian. In the US in the last two weeks, a far-right Christian killed a politician in Montana (in the same week a white supremacist fatally stabbed two men in Portland, and another far-right loon fatally stabbed a black man on the campus of Maryland University). Anti-abortion terrorists tend to self-identify as fundamentalist Christian. There have been over 200 incidents of bombing or arson against abortion clinics since the 1970s, the most recent is the shooting of three people in a US clinic in 2015 by a man who called himself Christian.
If we're fine with the term 'Islamic terrorism' or 'Islamist terrorism', which I am, then we should also be fine with 'Christian terrorism'. Yet 80% of Christians think Christian terrorists aren't really Christian, while over half think Islamic terrorists are actually Muslim. Why won't the media use the word 'Christian' or even 'terrorist' to describe violent hate crimes by Christian fundamentalist groups and individuals?
I feel that Murray has searched for an existential answer to life's meaning, a grand narrative, and has decided his mission is to oppose Islam. This is the great war of our time, he reckons, and it is heroic to give one's life to this mission (and it's true that some outspoken critics of Islam have ended up being killed, like Pim Forteyn and Theo Van Gogh). Nuance and balance is the first victim of this grand war. And this crusade is not Christianity. It's militant tribalism, however much you dress it up with Shakespeare and Thomas Tallis. It's closer to Fight Club than the Beatitudes - you give yourself a meaning by picking a fight.
In conclusion, I agree with Murray that European politicians have - by accident or design - imposed mass immigration onto their populations for two decades, against the wishes of their populations. I agree that if populations want to control or lower immigration, governments should try to do it rather than dismissing them as bigots. I agree that political correctness should not stand in the way of prosecuting crimes by immigrants. I also agree that Europe needs a greater sense of transcendence and meaning, beyond consumerism and hedonism.
However, it is a strategic error to say 'the problem is Islam' because it alienates and weaponizes the 20 million Muslims already living here, and pushes Muslims of all varieties towards more extreme variants of the faith. Circulating false but highly provocative statistics like 'all rapes in Oslo are carried out by immigrants' is deeply irresponsible and fans the flames of extremist fear and violence on the right.
Finally, I don't think it's a goer to embrace Christianity as the solution to Europe's existential problem if you don't actually believe in Jesus or even in God, but just see it as a useful cultural barrier to resist the barbarians. That is not a vital long-term solution - it's an empty suit of armour, without a warm, beating heat within it. You end up perverting the faith you're using as a military banner.
Christianity has an important role to play in our culture, but we've long been more pluralistic than that, influenced just as much by Greco-Roman culture, and today by other cultures like Indian, American, and, yes, Muslim culture. I think pluralism is not empty or morally hollow, but a reflection of the nature of God, and the dignity of human freedom. I know it's uncomfortable not to have one official existential Meaning for our culture, but have a look at the countries that have that (Iran, Saudi Arabia) and ask yourself if we're really in such bad shape.